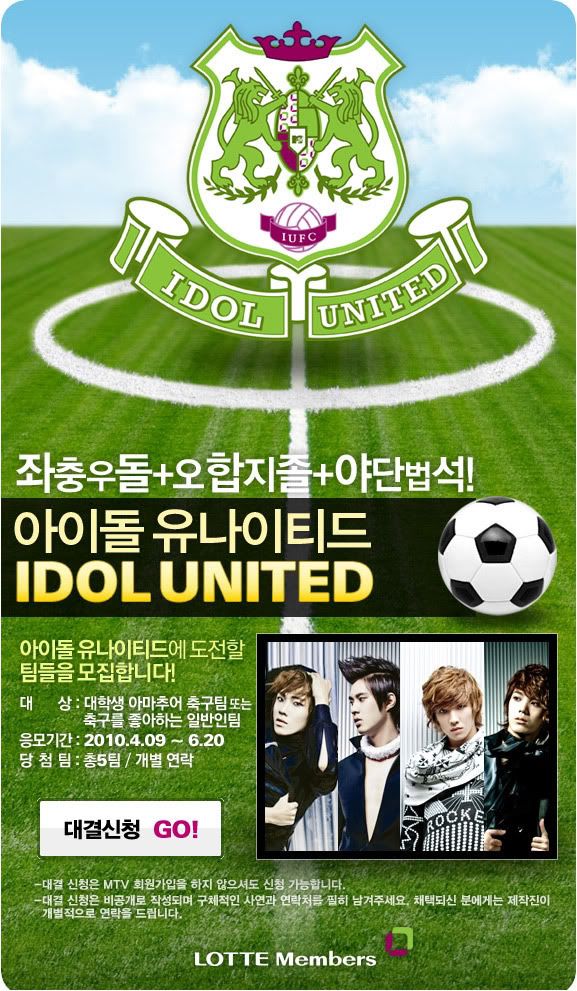 Cable channel MTV will be coming up with a new program called 'MTV Idol United' where your favourite male idols will be come together to form a soccer team pitching against other soccer teams in matches.
The program was established in view of the upcoming 2010 FIFA Worldcup. The idol soccer team will play against 5 soccer teams selected through online signup. And at the end of the program, a MVP player will also be chosen amongst the idol players.
Go under the cut to find out which male idols will appear on the show.
TEAM PLAYERS:
MBLAQ SeungHo
MBLAQ Mir
MBLAQ Lee Joon
UKiss SooHyun
UKiss Eli
ZE:A Kim DongJoon
ZE:A Park HyungShik
ZE:A Jung HeeChul
F.Cuz LeeU
F.Cuz Kan
F.Cuz JinOn
D-NA GaRam
D-NA HyunMin
D-NA InJoon
Find out more here at the official site:
http://www.mtv.co.kr/tv/idolunited/
Source:
K-Bites